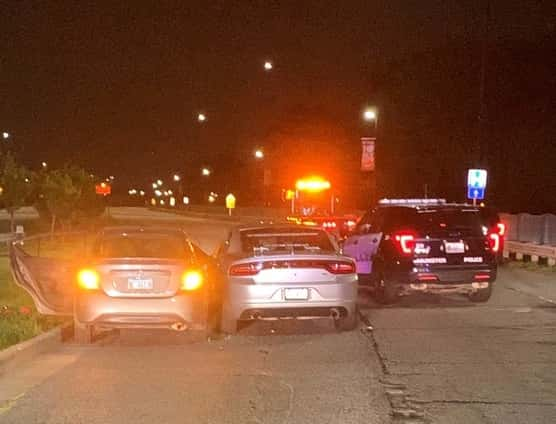 LAKE COUNTY, Ind.–A police chase ended when a trooper was forced to fire his gun after being wedged between his car and a suspect's car in Lake County, according to state police.
Around 12:30 Tuesday morning, investigators say the Munster Police Department and a state police officers followed a man driving a silver Nissan sedan which had been involved in suspicious activity.
Police say the driver sped off and tried to ram a Munster police car. The chase continued eastbound on I-80 from Kennedy Avenue. The driver finally stopped in the left lane on Columbus Drive and a trooper tried to take the driver into custody, but the driver moved forward and hit the trooper, wedging him against his car.
The trooper fired his gun through the windshield and hit the driver, which had three other passengers in it. No one else in the car was hit by the bullet.
The driver has been identified as Eric R. Douglas, 30, from Crown Point, IN. He was taken to the Lake County Jail. Police say Douglas had warrants out for his arrest in Marion and Porter County.
The identification of the trooper will be released Thursday afternoon.