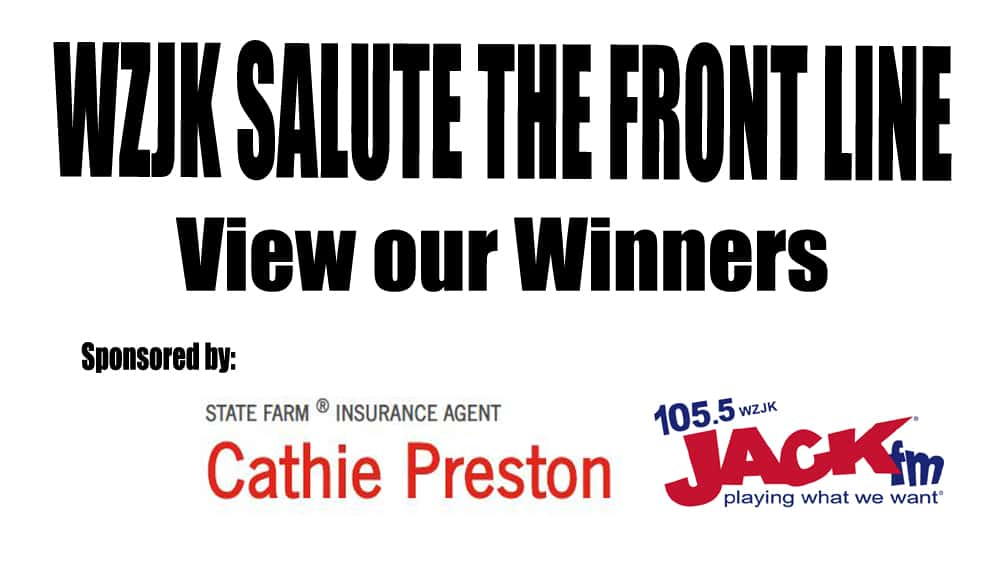 Are you or someone you love an essential worker in the WZJK listening area working on the front lines right now dealing with Covid-19? WZJK along with our sponsor Cathie Preston, State Farm Agent, was able to Salute the Front Line in May and June!
Health care workers, first responders, all essential workers and volunteers! You entered them all and we were able to team up with local restaurants to provide these hard working men and women lunch or dinner on us! The winners will received a gift card to a participating restaurant which included:
Gerrie's Italian Restaurant
Sonic Drive In
Goodie House Pizza
Los Tres Caminos
Taco Tequila
Charlie's Pub & Grub
See all of our winners below!
May 15th Winners:
Winner #1: Shannon Hamilton. Shannon was nominated by Aimee Eldridge. Shannon Hamilton works at Union Hospital and "Shannon has been working hard screening patients at different locations for Union Health. She is always bright and cheerful making a possible scary situation a little brighter. Repeat visitors love to see her smiling eyes as they walk through the doors."
Winner #2: Andrew Toon. Andrew was nominated by Sharon Toon. Andrew works at Hamilton Center and "Andrew deserves to be nominated because he has had to not only go to work Monday- Friday, but he also gets called EVERYDAY since the first of April at 7a, 3p and 11p for a face time with his staff to make sure they are healthy enough to go to work. This may not seem like a big deal to some, but he's essentially on call everyday for over a month. He never complains or calls in sick. He knows I have an autoimmune disease so upon coming home he immediately runs to the shower, and changes his clothes. Andrew has more than enough PTO time however, love's his job and respects his clients too much to leave them in a time of crisis. I realize he isn't a nurse or doctor, but he's serving the mentally ill people in his care as he would his family- with love and respect. He is very deserving of this award."
Winner #3: Shayne Jackson. Shayne was nominated by Maggie Hoctor. Shayne works at Great Dane Trailers and "He's a hard, dedicated worker! He's essential everyday but goes unnoticed!"
May 22nd Winners:

Winner #1: Corry Little. Corry was nominated by Paige Little. He works at the Parke County Jail and Paige said this when nominating him: "You never know when someone goes to jail if they are sick. My dad does his part to keep it out of the jail so the inmates don't get sick. And himself or his coworkers."
Winner #2: Scott Morge. Scott was nominated by Rose Marie Morge and he works at the Clay County Jail. "He is a jail deputy, working with all the inmates who are coming in daily and they have no idea if these inmates have been exposed to or have COVID 19. He has risked his health and our family's health to continue doing a job he loves."
Winner #3: Sherri Russell. She was nominated by Lori Swinford. Sherri works at Union Hospital in Clinton. "Sherri works in admitting at the hospital and is also a chaplain there. She is always available when a need arises and always puts others before herself. She is truly a hero, not only now but everyday.
May 29th Winners:

Winner #1: Brittany Stultz was nominated by Lee Stultz. Brittany works at Union Hospital. "She works in radiology and takes care of many possible COVID and positive COVID patients."
Winner #2: Hillary Smith was nominated by Judy Hoke. Hillary works at Union Hospital in Clinton. "She is an awesome ER nurse."
Winner #3: Billie Higginbottom was nominated by Sue Hamilton. Billie works in the ICU at Union Hospital. "Billie is a very dedicated ICU Nurse. I have seen her in action and if it wasn't for her a good friend of mine would not be here!! She knows what to look for and react when symptoms change. Union is very lucky to have her especially in ICU."
 June 5th Winners:

Winner #1: Sally Brown, nominated by Edward Barnett. Sally works at the CVS in Clinton. "Sally and her co-workers at CVS in Clinton face people every day. Also, Sally is a local EMT with Parke County EMS in Rockville. In this time of need Sally has been able to work both jobs and keep people safe every day. She just lost one of her best friends, her heart and soul. Sally had to put her dog to sleep in all this mess, her and her family will greatly mess the pet. Sally is a very nice person to be around and she will help anybody in any way she can if asked."
Winner #2: Shannon Hutson, nominated by Cindy Rohr. Shannon works at the Parke County Sheriff's Office where she is a 9-1-1 Dispatcher.
Winner #3: Jay Rogers, nominated by Cindy Rogers. Jay works at Regional Hospital. "My husband works in housekeeping. He cleans rooms, floors and anything that needs done. He is in the ER, Outpatient and does floors."
 June 12th Winners:

Winner #1: Chase Blaine, nominated by Jamie Liston. Chase works at Menards. "I believe Chase deserves to be nominated because he is only 21 and he has worked through this Covid crisis every single day and goes above and beyond to help people out in the store while most people are scared to even talk to anyone through all of this. Just a well deserving, humble and kind young man making the most of it and keeping a positive attitude through the worst of times! Very proud mom of this young man!"
Winner #2: David Leonard, nominated by Jennifer Moss. David works for UPS. "David is a great guy and hard worker. He has been out there every day delivering all of our online order packages. I feel that the delivery drivers haven't gotten the recognition that they deserve throughout this pandemic."
Winner #3: Kandrea Britton, nominated by Page Craft. Kandrea works at the VA Medical Center. "She a surgical tech but with all of this Covid 19 going on they hadn't done surgeries, so they put her on the frontline to escort patients around to and from different clinics throughout the VA. And she has had some close calls. She's a hard worker an also is a full-time mother and wife beside her long days at the VA."
June 19th Winners:
Winner #1: Kerri Keyt, nominated by Kelly Mason. Kerri works at St. Vincent Flight in Greencastle. "She is a flight staff nurse based in Greencastle. She works 24 to 48 hours shifts and sees and does things that most people can't or won't do. Plus, she is always in contact with covid-19 patients. She is a good mom of 3 boys and wife. And a great daughter. Very deserving."
Winner #2: Nicole Swayze, nominated by Tara Swayze. Nicole works at Union Hospital. "She is a dedicated RN who is also a full time mom. Nicole works in the emergency room 3 over night shifts a week even though she doesn't get to spend time with her 10-month-old son. Nicole risks her health and safety to take care of her family."
Winner #3: Hope Yoder, nominated by Jennifer Moss. Hope works at First Financial Bank. "She's a hard worker and has worked during this entire COVID-19 shutdown as an essential worker. I feel like the banking guys and gals have been long overlooked during this pandemic."