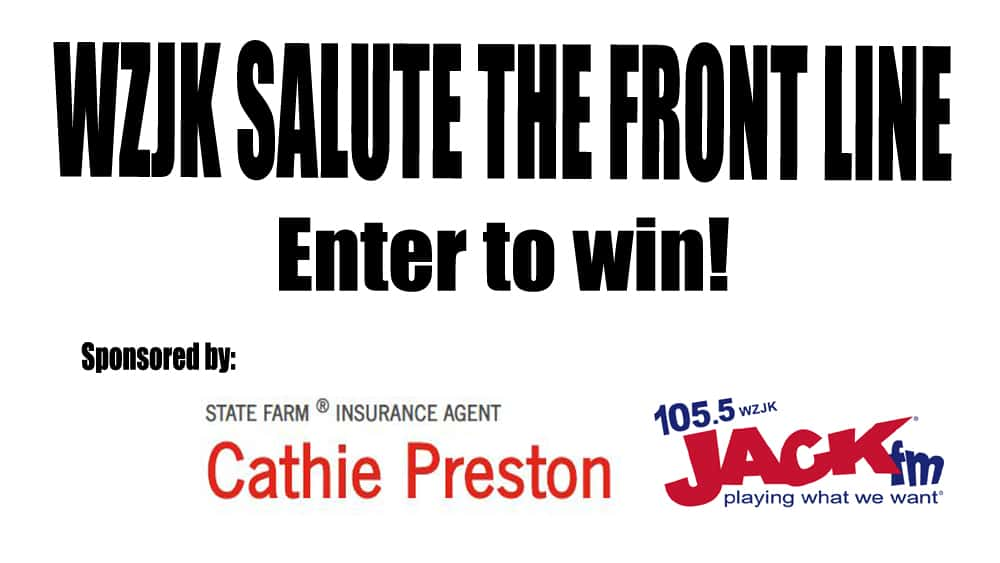 Are you or someone you love an essential worker in the WZJK listening area working on the front lines right now dealing with Covid-19? Starting May 15th, WZJK along with our sponsor Cathie Preston, State Farm Agent, we are going to Salute the Front Line!
Health care workers, first responders, all essential workers and volunteers! We want you to enter or to enter someone you know because we are teaming up with local restaurants to provide these hard working men and women lunch or dinner on us! Just fill out the form below and each Friday three winners will be drawn! The winners will receive a gift card to a participating restaurant which includes:
Gerrie's Italian Restaurant
Sonic Drive In
Goodie House Pizza
Los Tres Caminos
Taco Tequila
May 15th Winners:
Winner #1: Shannon Hamilton. Shannon was nominated by Aimee Eldridge. Shannon Hamilton works at Union Hospital and "Shannon has been working hard screening patients at different locations for Union Health. She is always bright and cheerful making a possible scary situation a little brighter. Repeat visitors love to see her smiling eyes as they walk through the doors."
Winner #2: Andrew Toon. Andrew was nominated by Sharon Toon. Andrew works at Hamilton Center and "Andrew deserves to be nominated because he has had to not only go to work Monday- Friday, but he also gets called EVERYDAY since the first of April at 7a, 3p and 11p for a face time with his staff to make sure they are healthy enough to go to work. This may not seem like a big deal to some, but he's essentially on call everyday for over a month. He never complains or calls in sick. He knows I have an autoimmune disease so upon coming home he immediately runs to the shower, and changes his clothes. Andrew has more than enough PTO time however, love's his job and respects his clients too much to leave them in a time of crisis. I realize he isn't a nurse or doctor, but he's serving the mentally ill people in his care as he would his family- with love and respect. He is very deserving of this award."
Winner #3: Shayne Jackson. Shayne was nominated by Maggie Hoctor. Shayne works at Great Dane Trailers and "He's a hard, dedicated worker! He's essential everyday but goes unnoticed!"
May 22nd Winners:

Winner #1: Corry Little. Corry was nominated by Paige Little. He works at the Parke County Jail and Paige said this when nominating him: "You never know when someone goes to jail if they are sick. My dad does his part to keep it out of the jail so the inmates don't get sick. And himself or his coworkers."
Winner #2: Scott Morge. Scott was nominated by Rose Marie Morge and he works at the Clay County Jail. "He is a jail deputy, working with all the inmates who are coming in daily and they have no idea if these inmates have been exposed to or have COVID 19. He has risked his health and our family's health to continue doing a job he loves."
Winner #3: Sherri Russell. She was nominated by Lori Swinford. Sherri works at Union Hospital in Clinton. "Sherri works in admitting at the hospital and is also a chaplain there. She is always available when a need arises and always puts others before herself. She is truly a hero, not only now but everyday.
May 29th Winners:

Winner #1: Brittany Stultz was nominated by Lee Stultz. Brittany works at Union Hospital. "She works in radiology and takes care of many possible COVID and positive COVID patients."
Winner #2: Hillary Smith was nominated by Judy Hoke. Hillary works at Union Hospital in Clinton. "She is an awesome ER nurse."
Winner #3: Billie Higginbottom was nominated by Sue Hamilton. Billie works in the ICU at Union Hospital. "Billie is a very dedicated ICU Nurse. I have seen her in action and if it wasn't for her a good friend of mine would not be here!! She knows what to look for and react when symptoms change. Union is very lucky to have her especially in ICU."