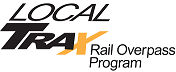 GARY, Ind. – Indiana Governor Eric J. Holcomb, Indiana Department of Transportation Commissioner Joe McGuinness, railroad industry leaders and local officials gathered Thursday in Gary to announce the awarding of more than $121 million in one-time, state matching funds for rail crossing safety improvements through INDOT's Local Trax matching grant. Launched earlier this year, Local Trax provides funds for Indiana cities, towns and counties to competitively pursue high-priority railroad grade separations, crossing closures and other safety enhancements at railroad intersections with local roads.
The program requires local governments to provide only 20 percent of funding for land acquisition and construction, with the state providing the other 80 percent. INDOT will fund and manage design and environmental work, as well as provide project management through design delivery, contract letting, construction and inspection.
Beyond funds provided by the state and local communities, Norfolk Southern Railway, CSX Transportation and Canadian National are investing a combined nearly $10 million to deliver these local projects.
Locally Terre Haute will receive $13.5 million to build an overpass across the tracks in the area of 13th and 8th Avenue. The project is expected to cost a total of $16.9 million.
Mayor Duke Bennett says that up to 60 trains a day cross the tracks in that area and construction on the over pass could begin in 2020.
| | | | |
| --- | --- | --- | --- |
| Community Awarded Funds | Project Location | Estimated State Matching Funds | Estimated Total Project Cost |
| Elkhart (City) | Hively Ave. east of Main St. crossing the Norfolk Southern Railway | $15,853,300.00 | $19,941,300.00 |
| Elkhart County | Sunnyside Ave./Mall Dr at U.S. 33 (Main St.) | $20,088,000.00 | $29,800,000.00 |
| Gary | N. Clark Rd. near airport | $15,200,000.00 | $19,000,000.00 |
| Hammond | Bridge over Norfolk Southern 800 feet E of Parrish Ave., 600 feet N of 173rd St. | $6,760,070.00 | $8,766,070.00 |
| Hobart | Colorado St. over CN/Grand Trunk and Western | $7,336,580.00 | $9,398,300.00 |
| Kosciusko County | Kosciusko Co. C.R. 1300 N extension over Norfolk Southern Railroad and Main Street | $7,757,695.00 | $9,644,500.00 |
| La Porte | Tipton St. to Park St. between State St. and Furnace St. | $6,238,880.00 | $7,798,600.00 |
| Schererville | Kennedy Ave. bridge over Canadian National and Norfolk Southern railways | $8,229,340.00 | $10,818,100.00 |
| Terre Haute | Near intersection of N. 13th St. and 8th Ave. | $13,520,000.00 | $16,900,000.00 |
| Vanderburgh County | Mill Rd. approx. 650 feet W of Kratzville Rd. | $6,237,500.00 | $7,487,500.00 |
| Wabash | N. East St. over the Norfolk Southern Railroad near E. Hill St. | $8,560,000.00 | $10,700,000.00 |
| Wells County | Rerouting of Hoosier Highway in Wells County to connect to Adams Street at Bluffton City Limits | $6,019,073.00 | $7,313,780.00 |